How to Elevate Your Amazon Business with FBA Prep Services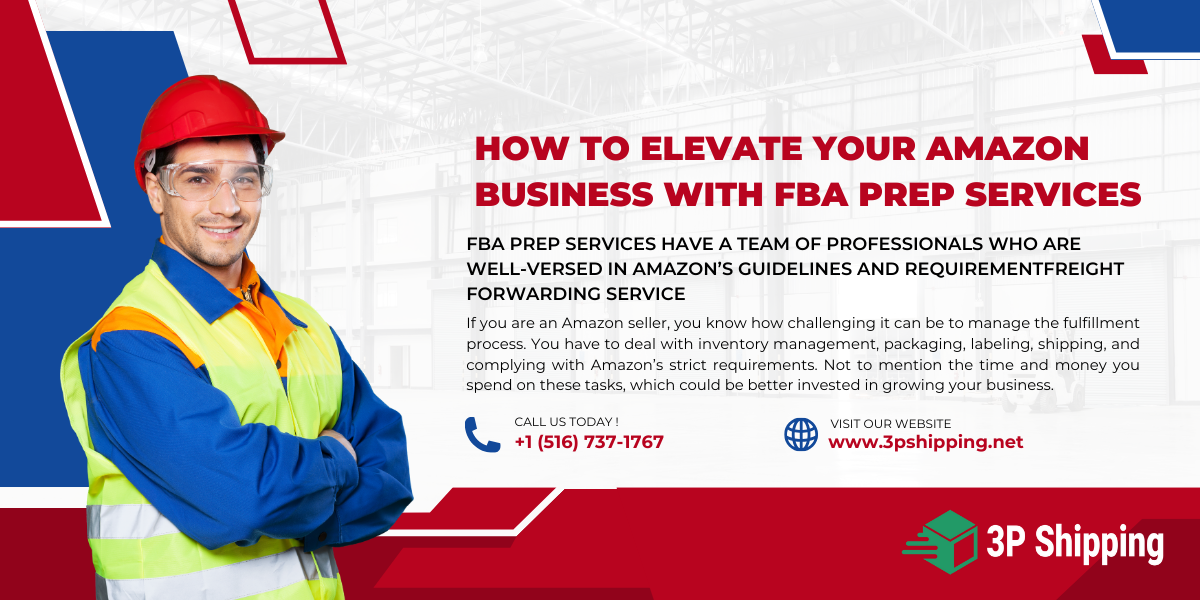 If you are an Amazon seller, you know how challenging it can be to manage the fulfillment process. You have to deal with inventory management, packaging, labeling, shipping, and complying with Amazon's strict requirements. Not to mention the time and money you spend on these tasks, which could be better invested in growing your business.
That's why many Amazon sellers choose to outsource their fulfillment process to FBA prep services. FBA prep services are third-party companies that handle the preparation of your products before they are sent to Amazon's fulfillment centers. They take care of all the details, such as quality control, repackaging, labeling, fragile item preparation, case-packing, and more.
By using FBA prep services, you can enjoy many benefits, such as:
Expertise and experience:
FBA prep services have a team of professionals who are well-versed in Amazon's guidelines and requirements. They can ensure that your products are prepared according to Amazon's standards and avoid any issues or delays.
Time and cost savings:
FBA prep services can save you time and money by taking over the tedious and complex tasks of preparation and packaging. You can focus on your core business activities, such as marketing, product development, and customer service.
Quality assurance:
FBA prep services have strict quality control measures to ensure that your products are in perfect condition before they reach Amazon's warehouses. They can also provide photo documentation and authentication of genuine goods for your peace of mind.
Scalability and flexibility:
FBA prep services can adapt to your specific needs and preferences. They can handle any volume of orders and inventory fluctuations with ease and efficiency. They can also customize their services according to your product categories and specifications.
One of the best FBA prep services in the market is 3P SHIPPING. 3P SHIPPING is a reliable and efficient partner for Amazon sellers who want to elevate their business and optimize their profitability.
3P SHIPPING offers a wide range of FBA prep services, such as:
Picking and packing: 3P SHIPPING uses modern and smart methodologies to ensure error-free and fast picking and packing operations.
Cross-docking: 3P SHIPPING can receive your products from your suppliers or manufacturers and ship them directly to Amazon's fulfillment centers without storing them in their warehouses. This can reduce your storage costs and transit time.
Using advanced software: 3P SHIPPING uses a superior-tech platform that allows you to easily connect and manage orders across top marketplaces and D2C platforms.
Implementing smart storage: 3P SHIPPING has a nationwide fulfillment network that gives you access to multiple warehouses across the country. You can store your products closer to your customers and reduce shipping costs and delivery time.
Meeting Amazon product compliance: 3P SHIPPING ensures that your products meet Amazon's product compliance requirements, such as barcode labels, poly bags, expiration dates, etc.
Hiring happiness engineers: 3P SHIPPING has a dedicated support team that can help you with any queries or issues you may have regarding your fulfillment process.
Choosing 3P SHIPPING for your FBA prep services is not just a decision; it's an investment in precision, quality, and excellence. It's a partnership where your business objectives become theirs, and their expertise becomes your asset.
If you are ready to elevate your Amazon business with FBA prep services, contact 3P SHIPPING today. They will discuss your specific requirements and provide you with a customized solution for your business.
Don't let the fulfillment process hold you back from achieving your goals. Let 3P SHIPPING handle it for you and enjoy the benefits of FBA prep services.